Alton Sr High School
Class Of 1969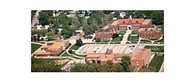 In Memory
Robert G. Adair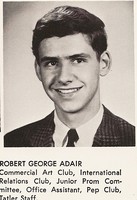 Robert G. Adair, 33, of Alton, Health Educator for St. Joseph's Hospital, died on June 1, 1984 at St. Louis University Hospital. He had been in failing health three days.
He was previously Director of Marketing and Education at McDonough District Hospital in Macomb.
Born in Alton, he was the son of Pauline (Galley) Adair of Godfrey and the late George A. Adair.
Surviving, in addition to his mother, are his wife, the former Marla K. Angel, whom he married Dec. 28, 1974 in Godfrey; a daughter, Ellen Ann Adair at home; and two sisters, Sharon Clark of Arlington, Va., and Jane Adair of Springfield.
Visitation was at Gent Funeral Home and funeral services were held at the First United Methodist Church in Godfrey with the Rev. Marshall Semingson officiating. Burial was in Valhalla Memorial Park.