Alton Sr High School
Class Of 1969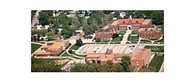 In Memory
Kenton E. Brown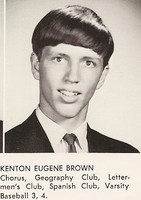 Kenton E. Brown, 21, of 4800 Fantasy Lane, Godfrey, was pronounced dead on arrival at 1:40 a.m., Sunday (4/23/72) at Alton Memorial Hospital after an automobile accident.
He was a production worker at the Fisher Body Plant in St. Louis and a student at Southern Illinois University Edwardsville and Lewis and Clark Community College, Godfrey.
A son of Mr. and Mrs. Raymond E. Brown of Godfrey, he was born in Alton on April 22, 1951. He graduated from Alton High in 1969.
He was a member of the Trinity Luthern Church.
Surviving are his parents, three brothers, Gary, Randy, and Damon, all at home; and two sisters, Tammy and Jaimee, both at home.
Also surviving are paternal grandparents, Mr. and Mrs. John M. Brown of Jerseyville and maternal grandmother, Mrs. Gesche Lotz of East Alton; maternal great grandmother, Mrs. Amanda Lotz of Collinsville.
Services were held at Smith Funeral Home with Rev. Leland Lochhaas officiating. Burial was in Upper Alton Cemetery.