Alton Sr High School
Class Of 1969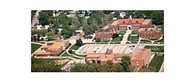 In Memory
Alan H. Bunse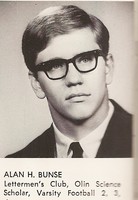 Former area resident, Alan H. Bunse, 42, died Friday, Dec. 31, 1993, in Henderson, Nevada.
He graduated from Alton High School and the University of Pennsylvania and received his master's degree from Washington University. He was a member of the Elks and formerly belonged to St. Ambrose Catholic Church of Godfrey.
Born in Alton Nov. 8, 1951, he was the son of William Bunse of Clearwater, Florida and the late Anita (Hufker) Bunse.
He married the former Deborah Maxwell in Collinsville June 17, 1978. She survives.
In addition to his father and wife, surviving are his stepmother, Martha Joan Bunse of Godfrey and Clearwater, and two sisters, Elaine Bullens of Chillicothe and Diane Bunse-Rizzo of Holland, Michigan.
Services were held at Palm Mortuary in Las Vegas. The body was cremated.
Memorials may be made to the American Lung Association.