Alton Sr High School
Class Of 1969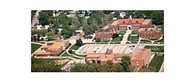 In Memory
Alvin Charles Sims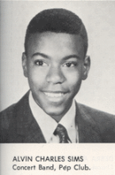 Alvin C. Simms, 44, formerly of Alton, died Oct. 11, 1995, at his home in Phoenix after an extended illness.
Born March 10, 1951, in Alton, he was the son of Pamela (Lumpkins) Sims of Alton and the late Wendell Sims.
His wife, the former Darlene Harrington, survives.
In addition to his wife and mother, surviving are five sons, Anthony C. Sims and Justin Sims, both of Aurora, Alex Sims and Clinton Sims, both of Paris, Ky., and Herbert E. Miller of Dallas; a stepson, Raphael Harrington of Aurora; and four sisters, Essie Williams of Evanston and Paula Pitts, Virginia Mosby-Griffin and Katherine Walters, all of Phoenix; and two brothers, Wendell E. Sims Sr. of Houston, Texas, and Thomas Sims of Blue Springs, Mo.
Services were conducted by the Rev. Charles Gill at Williams Mortuary in Alton. Burial was in Upper Alton Cemetery.