Alton Sr High School
Class Of 1969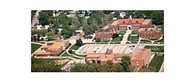 In Memory
Dennis W. Gaither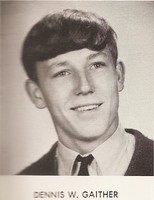 Dennis Wayne Gaither, 55, died at 4:12 p.m. Monday, Oct. 15, 2007, at his residence in Alton.
He was born Oct. 22, 1951, in Alton to Melvin E. and Josephine E. (Cousins) Gaither.
The decorated Vietnam veteran served with the U.S. Marine Corps and was a member of the Marine Corps Service League and Alton VFW Post 1308. He retired from the Sara Lee Corp. in St. Louis in 2005.
He is survived by his stepmother, Jane Gaither of Alton; one son, Josh Gaither of Alton; one daughter, Jenny Gaither of Brighton; and a granddaughter, Cassidy Jade Gaither. Also surviving are two brothers, David Gaither and his wife, Sue, of Collinsville, Daniel Gaither and his wife, Cheryl, of Jerseyville; two sisters, JoAnn Gaither-Wilson and her husband, Warren, of Bridge City, Texas, and Mary Reynolds and her husband, Scott, of Rosewood Heights; a special best friend, Matt Morgan, and his wife, Marsha, of Godfrey; and numerous nieces and nephews.
He was preceded in death by his mother and father and three brothers, Timothy, Mark and Greg Gaither.
A special "thank you" to the Catholic Childrens Home for all of their love and support over the years and to St. Anthony's Hospice.
Visitation will be 4 to 8 p.m. today at Gent Funeral Home in Alton.
Funeral and burial will be private.
Memorials may be given to a trust fund for Jenny Gaither in care of First Bank of Brighton.
Additional information and online guestbook may be found at www.gentfuneralhome.com.
(From Alton Telegraph Archives)