Alton Sr High School
Class Of 1969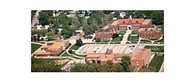 In Memory
Terry W. Gillson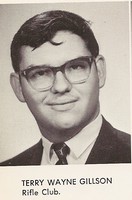 Terry Wayne Gillson, 53, formerly of Alton, died Friday, July 9, 2004, at Edwardsville Nursing and Rehabilitation Center.

Born Jan. 23, 1951, in Alton, he was the son of Charlotte (Hyman) Gillson of Alton and the late William Gillson.
Disabled for several years, he had worked as a security guard. He loved the woods and hunting. He was a lifetime member of the National Rifle Association.
In addition to his mother, survivors include one daughter, Addie Lee Gillson of Wood River; one sister, Carolyn Hartley, and her husband, Frank, of Alton; and one brother, Ricky Gillson, and his wife, Sandra, of Missouri.
He was also preceded in death by one sister, Bonnie Gillson, and his grandparents.
Visitation and funeral services were held at Elias-Smith Funeral Home and Crematory in Alton. Interment was at Upper Alton Cemetery.